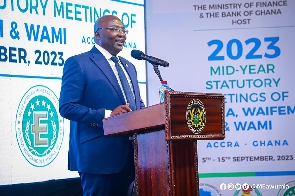 Vice President, Dr. Mahamudu Bawumia, has said the long-envisioned dream of a unified single currency for the West African sub-region rests on the commitment of member-states.
Against a backdrop of shifting geopolitical and economic dynamics, he noted that the imperative of a West African single currency has never been clearer.

With recent developments underscoring the urgent need for cohesive monetary integration, Dr. Bawumia stated that policymakers and stakeholders need to double efforts toward achieving macroeconomic convergence and stability – the lynchpins for a successful monetary union – by January 2027.

"We should therefore ensure a balance between economic development and macroeconomic stability," he added.

Speaking at the 50th Meeting of the Convergence Council of Ministers and Governors of Central Banks of Member States of the West Africa Monetary Zone (WAMZ) opening session, he acknowledged that despite the daunting challenges, significant milestones have been achieved in implementing activities of the ECOWAS single currency roadmap.

He said it is important for the member-states of the WAMZ to take ownership of the convergence programme by mainstreaming it into their national macroeconomic frameworks.
Furthermore, he cautioned that there will be a need to undertake meaningful reforms to achieve the convergence criteria on a sustained basis, otherwise the vicious cycle of endless postponements will continue.

"The inability of the member-states to improve upon and sustain performances in the convergence criteria is one of the key challenges of WAMZ member-states, as no member-state had met all four primary convergence criteria as of December and June 2023.

"Following the declaration of 2020 and 2021 by the ECOWAS Commission as exceptional years – due mainly to external shocks – macroeconomic performance did not improve much in 2022, while mega trends and projections suggest a murky outlook," he stated.

However, he noted that there are downside risks to the macroeconomic outlook, such as Russia's withdrawal from the Black Sea agreement, India's suspension of rice exports and overall insecurity. "This situation is further compounded by the adverse impact of climate change, characterided by widespread flooding in some member-states," he added.

Given this, he cautioned that: "If we continue to pursue the monetary integration agenda the same way as we have done in the past and we are doing now, the attainment of monetary union objectives by January 2027 may be elusive.
"The emerging economic fragmentation along geo-economic and geopolitical fault-lines cannot help us overcome our common macroeconomic challenges; nor can it help us achieve the shared ambition for an inclusive, integrated and prosperous region. Let us build back better, for we are better together," he said.

Also speaking at the ceremony, Minister of Finance Ken Ofori-Atta said that given the challenging macroeconomic environment facing ECOWAS, the vision of a single currency may seem distant but cannot be given up.

However, he said the statutory meetings offer a significant opportunity to discuss successes and challenges in meeting the primary and secondary convergence criteria and other requirements necessary for success of the ECOWAS Monetary Cooperation Programme (EMCP).

"More importantly, I expect that through these meetings we will table workable recommendations toward meeting our single currency programme objectives for 2027," he added.

The Finance Minister recognised the multiple shocks witnessed in recent times that have led to significant macroeconomic imbalances. These shocks, he observed, have plunged many countries into unsustainable debt territories and dampened growth prospects, among others.
Ghana, not being an exception, is equally adversely affected. This led to introduction of the Post-COVID-19 Programme for Economic Growth (PC-PEG) by government to restore macroeconomic stability and debt sustainability.

Also, it aimed at building resilience through the implementation of wide-ranging and strong structural reforms.

The PC-PEG, he said, is supported by a three-year US$3billion IMF ECF programme that was approved in 2023.

"Ghana is in the implementation phase of the programme, and we are already turning the corner. Recent data show that the exchange rate has largely stabilised, inflation has moderated and declined, the fiscal position has improved, and the 2023 first-quarter growth of 4.2% has been beyond expectations.

"The economy's outlook in the medium-term is very bright. We expect to restore fiscal and debt sustainability, post durable positive primary balances, improve growth to 5 percent or more, reduce inflation to be within the target of 8+-2 percent, and rebuild external buffers to improve Gross International Reserves," he stated.
All of these measures which Ghana is implementing, he noted, signify government's unwavering commitment to meeting the convergence criteria and achieving EMCP.