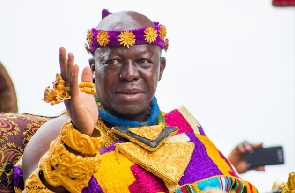 The Asantehene Otumfuo Osei Tutu II has sent the strongest signal to the Kumasi Metropolitan Assembly that his stool will not hesitate to withdraw its financial support to the Assembly if it continues performing abysmally in the delivery of its mandate.
This was contained in a fiery address delivered by the Bantamahene Baffour Amankwatia VI at the swearing-in ceremony of assembly members of the Kumasi Metropolitan Assembly.

The clearly disturbed chief who did not mince words decried the spate of decadence and mismanagement of the city describing the metropolitan authority as a total failure.

He recounted the congestion of the Central Business District, the engulfing filth, uncoordinated citing of structures, and haphazard parking of transport operators as some of the biggest challenges that the assembly has allowed to fester in Kumasi with impunity.

Baffour Amankwatia VI fumed, "with all sincerity before God, nothing works properly in Kumasi and the KMA boss who is sitting close to me knows it. Everybody does what they want."

"Our pedestrian walkways have been taken over by hawkers. Commercial drivers have left their stations picking up passengers from all places and creating a mess. Stalls have been erected haphazardly taking away the beauty of plush settlements like Nhyieso," the Bantama Chief went on.
He disclosed that Manhyia and its council of chiefs are so furious with the state of the city and had even begun contemplating withdrawing the 55% of stool land revenues that it generously advances to the assembly to carry out its developmental projects.

"The way we the chiefs are wild, if you are not careful we will withdraw our 55% stool land revenues from the assembly and develop Kumasi ourselves and you know that when the Opemsuo speaks, it is final," he dared.

Baffour Amankwatia VI charged the assembly members to be goal-oriented and serious about cleaning up the mess in the Kumasi Metropolis.