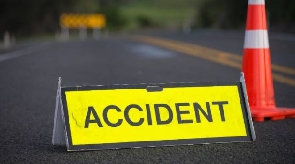 Six people were killed in a road accident on November 19, 2023 in Asanso, near Asante Bekwai in the Ashanti Region.
According to information obtained by Rainbowradioonline.com, the accident occurred when one of the five vehicles transporting mourners from Aputuogya to Manso Fahiakobo collided with a truck.

Five individuals died on the scene, while another died later at the hospital.

Several more were brought to the Bekwai Government Hospital and the Komfo Anokye Teaching Hospital (KATH) with injuries.
The truck according to size eyewitnesses was carrying sand.

The deceased persons included a minor.