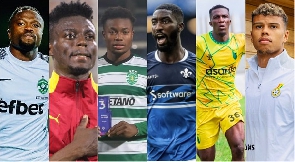 Black Stars head coach, Chris Hughton, announced his squad for the 2023 Africa Cup of Nations qualifier against Madagascar in June 2023.
The squad is the last for the 2022/2023 season, hence, coaches often look at the performance of players throughout the term and reward them with a call-up.

Hughton opted to announce a small squad, naming 24 players for the scheduled away trip to Antananarivo.

Some players who had a solid run in 2023 and an even better season were curiously left off his list.

Here are six players whose omission raised eyebrows

Baba Idrissu

Baba Idrissu had a fairly good season at Real Mallorca despite battling a few injuries at the start.

He has played 29 games so far 1,825 with one game remaining to end the season. Idrissu has played in 16 consecutive games in the La Liga since the start of the year.
However, he was not able to make a return to the squad since September.

Ransford-Yeboah Königsdörffer

Hamburger SV forward, Ransford Yeboah had an improved season as compared to the previous term. He missed just one of the 17 games in 2023 in Bundesliga 2, scoring two goals and providing one assist.

He had a total of 10 goals and 1 assist in the 33 matches in all competitions but was not enough to make the squad.

Patric Pffeiffer

Pfeiffer was magnificent in the just-ended 2022/2023 Bundesliga 2, providing a shield at the back to help Darmstadt secure promotion to the German Bundesliga.

Pfeiffer played 26 matches in all competitions this season, scoring four goals and providing one assist. He suffered a muscle injury in February 2023, and returned in April to play the remaining 9 matches of the season.
Despite returning to full fitness and playing consistently to gain promotion for his club, the German-born could not make the cut.

Fatawu Issahaku

Sporting Lisbon youngster, Fatawu Issahaku has been a regular member of the Black Stars but has now missed the last two call-ups under Chris Hughton.

The 19-year-old had a good season, playing intermittently for Sporting's Youth side the first team. He played a total of 1.421 minutes in 25 games this season in all competitions.

In 2023, he played 11 out of 38 games available.

Abednego Tetteh

Bibiani Gold Stars striker, Abednego Tetteh missed out on the squad despite leading the top scorer in the Ghana Premier League.
He joined Gold Stars during the January transfer window. During his transfer, he had scored just two goals for King Faisal.

Currently, he leads the scorer's chat with 16 goals, meaning he has scored 14 goals since the move.

Bernard Tekpetey

Bernard Tekpeytey was left out of the squad in spite of having a successful season in Bulgaria.

He had a state of all their European inter-club competitions, playing in the UEFA Champions League playoffs, Europa League playoffs, and the Europa Conference League group stage.

He amassed a staggering 3,084 games in 49 matches. He scored 10 goals and registered 9 assists in all competitions.

His 8 goals and five assists in the domestic league contributed to Ludogorets Razgrad lifting the title.
Watch the latest video from GhanaWeb Sports



EE/KPE