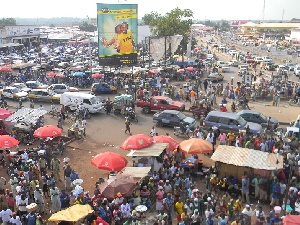 Thu, 26 Jan 2017 Source: GNA
Small and Medium-scale businesses are still being ignored by policy makers in their countries, a global report by Sage, a supplier of accounting and payroll software to the small to medium sized businesses worldwide, indicates.
The report published in the run up to the annual World Economic Forum (WEF) where politicians and big business will gather to debate the global economic picture shows that only 33% of small businesses feel represented by politicians in their countries.

The research, which measured sentiment of small businesses in 2016, showed that the majority (58%) considers the wider global economy to be less stable and (69%) either have or are considering changing their business plan as a result of recent events.

It noted that 22% of businesses are planning to export more in 2017, 10% less and 25% felt there would be no change.

Also, 31% of businesses think turnover will remain constant or remain the same over the next years, indicating clearly that the role of government in helping navigate uncertain economic and political times will be key.

"Almost half (46%) singled out export opportunities and grants as being the most important thing that the government can now do," the report said.

Sage Business Builders Forum
In order to give business builders a platform to connect with policy makers, Sage is launching its 'Forum for Business Builders.'

The Forum is open to all small businesses and will be refreshed regularly with diverse content and insights from guest contributors and advisors.

Sage CEO Stephen Kelly said, "Only too often when the world's policy makers discuss the global economic picture, small businesses are excluded from the discussion. It's crazy when you consider that small businesses create two thirds of all the jobs in most economies, and represent over 98% of all businesses."

Kelly commented: "Business builders are the heroes of the economy. They toil away long after the rest of us have gone home, making personal sacrifices to grow their businesses to support their families and build their communities. Policy-makers and big business must wake up to the fact that these heroes need to be supported and given a voice if we are to ensure the future health and prosperity of the world's economy."

Anton van Heerden, Managing Director and Executive Vice-President, Africa & Middle East at Sage, said: "We're seeing an uptake of entrepreneurial drive throughout the African continent, with many people starting out on their own to build businesses that serve the community, create jobs and raise income levels."

"We are the champion of small businesses. They are fuelled by a passion for improving their lives and helping their communities. It is encouraging to see African governments recognize just how central they are to the continent's growth story," van Heerden declared.
Source: GNA