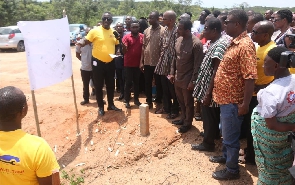 Sod has been cut for the construction of an ultra-modern Auto Tech Village at Mempeasem, a suburb of Cape Coast to house garages currently based at Siwdu.
In 2019, the Central Regional Chamber of Commerce and Industry initiated a bold move towards relocating members of the Ghana National Association of GARAGES to Mempeasem.

It said most of the members of the garages are located at Siwdu, near the Siwdu Sports stadium where quantities of oil from cars are discharged daily into drains which end up in the Fosu lagoon due to its proximity, thus, the need for relocation.

The Government of Ghana at whose doorsteps the concept of relocation was placed acquired 19 acres of land for the project under the 1 million dollar per constituency project and Infrastructure for Poverty Eradication Programme (IPEP) of the Coastal Development Authority (CODA).

The composition of the first phase of the project is to include; stabilization of the land including cutting and filling, construction of a concrete returning wall and boundary walls, toilet facilities, and connection to water, electricity, and borehole. It will also include a base for sprayers, welders, spare part dealers, upholstery workers, auto mechanics, auto engineers, electric engineers, and electricians. The base will also house blacksmiths, brick liners, air conditioners, and radiator liners.

This is currently being complemented by about 40 acres of land secured by Coastal Auto-Tech Limited.
Speaking in an exclusive interview with ATL FM NEWS, Engineer Dr. Ebenezer Ankomah Gyamera who is the Executive Director of Coastal Auto-Tech Limited, the Cape Coast-based company putting plans in place to ensure the success of the relocation said the efforts they are channeling towards the project is to augment what government had already started doing with regards to the relocation.

"…the government to relocate the garages here and they came to acquire a size of 19-acre land, but it could not house all of them. So, the rest we decided to complement our argument with the government's plan to have our own. This is a coastal village we want to establish. It has come to stay. We have about 300 members on board and we have a total land size of 40 plus acres."

Dr. Gyamera explained that the ultra-modern auto tech village will be a one-stop shop to house professionals in the auto mechanics industry in Cape Coast.

In addition, he said the village will have a clinic, fire station police station, and banking hall among others.

"We are bringing on board a clinic here so that our people will not run to town in case of an emergency. We are bringing a fire station, police station, and a banking hall here so that our mechanics can enter banks because many times with their dressing, they cannot go to some of these banks. But here is for us."
"We will also bring a crèche so that our nursing mothers can reliably place their children there. We are also bringing onboard facilities such as a restaurant and a guest house, so in case we are unable to service your car, you can sleep. Above all, we will bring an air-conditioned conference hall. And fortunately, we are adding everything to be a village of its own. People can also reside here so that when you send your vehicle here, you know that you can smile. You are sure that everything will come intact without any problem" he continued.

In an address, the Vice-Chancellor of the Cape Coast Technical University, Engineer Rev. Prof. Joshua Owusu-Sekyere applauded Coastal Auto-Tech Limited for contributing to the success of the relocation.

He added that when the project which is expected to be completed in less than two years is ready, it will be one of the great achievements realized in the Cape Coast Metropolis considering the benefits it will bring to residents.

"I think this is a historic moment that generations unborn will applaud Coastal Auto-Tech Limited for. It is a great thing they are doing, and I applaud the good work you're doing. And I believe that generations unborn will also applaud you for what you're doing today."

He, therefore, prayed all and sundry to support to help bring the facility into the infusion.