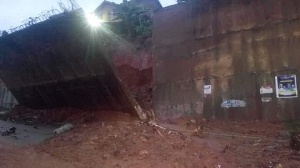 The $150-million Sofoline project being financed by the government of Ghana is falling apart as some portions are beginning to give way following heavy rains, MyNewsGh.com can report.
The Sofoline interchange project awarded to Chinese Construction Company, China Geo-Engineering Corporation was stalled as a result of nonpayment by the previous administration.

Sections of the interchange were put to use after it had fairly been completed but on Tuesday night, deep cracks emerged with sections falling off raising concerns if the job was indeed properly done by the executing company after their contract was terminated.

At the time MyNewsGh.com reporters visited the scene, motorists were advised to use alternative routes as their safety could not be guaranteed.
The project which was being executed by the Department of Urban Road under the Ministry of Roads and Highways is considered as one the biggest interchange in West Africa and when completed, would have eased the road traffic congestion in Kumasi, and enhance transportation in the Ashanti region.

The Sofoline Interchange project which started in 2007, should have been completed in 2010, but had delayed for several years due to the variation on the design and delay by the government to pay the contractors.

The $150-million project being financed by the government of Ghana, involves works such as the construction of the two interchanges at Sofoline and Komfo Anokye Hospital, reconstruction of an 11-kilometer six-lane dual carriageway and five underpasses for the pedestrians.