Soldiers gradually taking over internal security matters meant for Police and it is dangerous – Analyst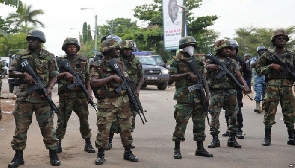 Adib Saani, a security analyst, has expressed concern about recent internal security duties performed by soldiers.
According to the analyst, soldiers are now being used to perform duties normally performed by the Ghana Police Service, causing schisms between the two security agencies.

He was responding to the reports of a clash between some Police officers and soldiers in Accra Central this week.

"What happened was out of the ordinary. It was unusual. It is extremely dangerous to our democracy. It could have gotten worse, and people could have died as a result. I watched the video and was astounded by what occurred. Several people have recently complained about the military's behaviour. They appear to be taking over the job of the Police Service."
Adib Saani told Nyankonton Mu Nsem on Rainbow Radio 87.5Fm that "the soldiers are now providing escort services for high-profile personalities, and soldiers are now engaging in operations to arrest criminals and also providing guard duties for money services." These are also responsibilities of the Ghana Police Service. We are gradually compromising military operations and assimilating them into civilian life. That is dangerous for us".

He emphasised the importance of authorities investigating the situation in order to prevent further escalation.

He said there was a need for our leaders to remove soldiers from internal security matters that should be handled by the Ghana Police Service.