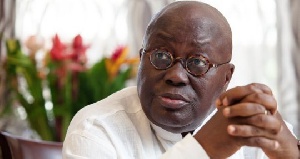 Law Lecturer Yaw Oppong says the flagbearer of the New Patriotic Party (NPP), Nana Akufo-Addo, will have to wait for 10 years before contesting for a presidential election again if the Judgment Debt Commission's report finally implicates him.
Oppong says even though Nana Addo can contest the report of the Commission at a higher court, according to the Constitution, he has to wait for 10 years before he can contest in a presidential election.

There is raging controversy about the eligibility of Nana Akufo-Addo as far as the 2016 election is concerned following his alleged indictment by the Judgment Debt Commission. The lawyer based his submissions on Articles 62 and 94 of the 1992 Constitution.

Leaked portions of the Judgment Debt Commission's report suggest that the New Patriotic Party flagbearer Nana Akufo-Addo caused financial loss to the state in the GNPC drill ship scandal.

The Commission held the view that the payment of US$19.5 million instead of the US$14 million earlier on agreed constituted a financial loss to the Corporation and Ghana.
Lawyer Oppong told Atinka AM Drive hosted by Kwame Adinkra that Nana Addo can appeal but added that he could be blocked from contesting in the 2016 election if he does not succeed.

He explained that President John Mahama has six months to issue a white paper on the report, adding that the government can either accept or reject the Commission's findings.

Lawyer Oppong chided the Commission for not inviting Akufo-Addo during its sittings and that it is not proper to make findings against someone without offering him the opportunity to be heard.

Lawyer Oppong called for circumspection during discussions on the matter since it could generate unnecessary tension in the country.