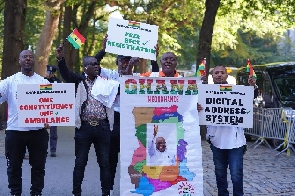 A section of Ghanaians in the United States of America(USA) were yesterday September 20, 2023, at the UN Headquarters in New York to show their support and acknowledgement of the President's leadership in the midst of economic challenges.
The President was in New York, USA to participate in the 78th Session of the United Nations General Assembly High-Level Political Forum.

The 2023 edition was on the theme: Rebuilding Trust and Reigniting Global Solidarity: Accelerating Action on the 2030 Agenda and UN Sustainable Development Goals towards Peace, prosperity, progress and sustainability for all.
The President delivered his National Statement with a call for a reformation of the United Nations Security Council to reflect the current challenges and solutions of Africa.

He also highlighted the need for reparations for African countries that were hugely impacted by the transatlantic slave trade.