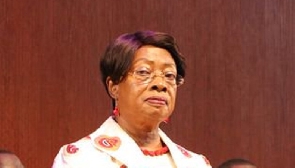 The Executive Director of the Alliance for Social Equity and Public Accountability (ASEPA), Mensah Thompson has taken a swipe at former Chief Justice Sophia Akuffo.
Thompson referenced Akuffo's leadership of the national COVID-19 Trust Fund as the basis for his accusation, alleging that funds had been misused under her watch.

"Sophia Akuffo herself is not exactly a saint and we have had our own issues with her. Remember she was the chairman of the COVID-19 trust fund and we saw the accounts she came to give," he told Metro TV news earlier this week.

He said the reckless use of funds under her leadership showed that "she is part of the problem, she is part of the reason that we are in a debt hole. And so, her far cry I mean is not anything that she can hide behind to exempt herself from the mess that we are in," he added.

Mrs. Akuffo opposes domestic debt restructing

The ex-Chief Justice has become topical in the last two weeks after she joined colleague pensioner bondholders who had been picketing at the Ministry of Finance since February 6 demanding total exclusion from the Domestic Debt Exchange Programme (DDEP.)

Mrs. Akuffo's involvement also saw her slam government's handling of the programme and the general economic situation of the country.
She received heavy backlash via social media from New Patriotic Party (NPP) stalwart Gabby Asare Otchere-Darko.

In her second appearance at the picket this week, she responded to Gabby's critique among others by referring to him as a nuisance who did not matter to her and her life.

Thompson is, however, incensed that President Nana Addo Dankwa Akufo-Addo is mute on Gabby's attack on his former appointee. Gabby and the former CJ are all related to the president.

Sophia Akuffo and the CNTF

To leverage other resources to fight the pandemic, Government passed the COVID-19 National Trust Fund Act (CNTF), 2020 (Act 1013) in April 2020 to establish the Fund.

The CNTF had mobilized 62,329,941.98 as of June 2022 from individuals, churches, corporate bodies, staff of organizations, non-Governmental organizations, groups, and associations, etc.
At a July 2022 press conference, Sophia Akuffo said out of the amount, the fund had disbursed GH¢53,230,805.37 for procurement and administrative purposes.

She told Joy FM in a recent interview that the Fund had fully accounted for its tenure and that they were in the final stages of wrapping up their task challenging anyone to point to any malfeasance in their work.


.@GabbyOtchere was insulting the former CJ on behalf of the President. Sophia Akuffo herself is not a saint but who am I to intervene in a fight between two elephants - @MensahThompson1 #MetroNews pic.twitter.com/fHb3hmHpQR

— Metropolitan Television (@metrotvgh) February 16, 2023
SARA