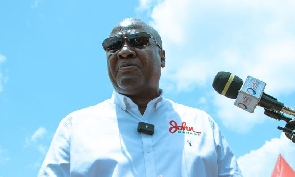 Former President John Dramani Mahama has called on various student unions, including the Students' Representative Council (SRC), to raise their voices and advocate the proper functioning of the Ghana Education Trust Fund (GETFund), which has been facing challenges in recent times.
According to the 2024 NDC flagbearer, the GETFund is currently struggling due to the government's use of funds and the issuance of 'Dakye Bonds,' which has led to a depletion of resources. This has resulted in several school projects being halted, affecting students and their education.

He expressed concern over the reckless management of the fund by the ruling government's administration.

Mr Mahama made these remarks during the grand durbar of the University of Cape Coast's 60th SRC Week celebration on Friday, July 21, 2023.

Established in the year 2000 under the late President Jerry John Rawlings' government, with Dr. Ekwow Spio-Garbrah as the then Minister of Education, the GETFund is a public sector agency aimed at delivering quality education from the basic to tertiary level. It employs dynamic funding policies to ensure equitable provision of essential resources to all Ghanaian citizens.
Mr Mahama highlighted the significance of student leaders, emphasizing that they will soon become the backbone of Ghana's socioeconomic development, taking up crucial roles as lecturers, solicitors, medical practitioners, engineers, security personnel, and more, once current professionals retire.

He urged executives and members of student unions across the country to prioritize the welfare of the wider student population and actively support their schools in creating an enabling learning environment.

The former President stressed the importance of the SRC and its umbrella unions using their voices to influence national policy issues through conferences, seminars, press releases, and public demonstrations.

He reminded them that such engagements in the 1990s led to the establishment of the GETFund to support tertiary education.