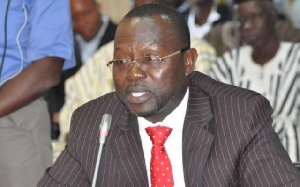 A former Deputy Attorney General and Member of Parliament for Bolgatanga East, Dr. Dominic Ayine, has said the dismissal of him as "unprepared" by the Speaker of Parliament when he took to his feet to address the House was "insulting."
Dr. Ayine who sued the State and Martin Amidu over his suitability for the Special Prosecutor job was rebuked by the Speaker Mike Oquaye Tuesday, February 20, during the proceedings to adopt the recommendation of the Appointment Committee to approve the nomination of Mr. Amidu when he stood up to address the chamber for not getting his briefs right before his attempted address of House.

"It is important to realise that when you want to put a piece and know the procedure for jaw-jawing by way of producing your authority at the appropriate time, then please prepare at dawn before you come to court or before you come to parliament.

"So that you can really produce your authority in the manner that will be required by the Supreme Court. And this is a duty that any serious lawyer will tell you should be done," admonished the Speaker.

In his reaction, however, on Starr Today Dr. Ayine observed that he found the Speaker's intervention unfair.

"That was an insult," he told Starr Today's co-host Naa Dedei Tetteh "and I took exception to that."
According to him, the Speaker's assertion that he wasn't adequately prepared was inaccurate.

"I prepared on this matter," he added asking: "And if your reporters were there did I speak like somebody who wasn't knowledgeable on the subject matter?"

"We need to be serious as a people," he said and that when he was making substantive argument relating to order 93 (1) of the Parliament's standing orders, making arguments in relation to the separation of powers architecture of "our constitution" were they arguments that could be faulted as coming from someone who wasn't prepared.

He said: "Both the Speaker and the Majority leader have a way of trying to denigrate and hold in contempt arguments being made by the Minority. Every time they are telling you that you are incompetent, your motion is incompetent."

SC will uphold Amidu's appointment
The Attorney General and Minister of Justice Gloria Akufo has said the Supreme Court (SC) will uphold President Akufo-Addo's appointment of Martin Amidu as Special Prosecutor.

The Plenary of Parliament Tuesday February 20 accepted the nomination of Martin Amidu after the Appointments Committee approved him by consensus after the Tamale North MP Alhassan Suhyini voted for the nomination after dissenting initially.

There are fears that the suit by Former deputy Attorney General Dr. Dominic Ayine challenging the eligibility of Martin Amidu as Special Prosecutor due to his age could scuttle his appointment.

Speaking to journalists however after Parliament approved the nomination of Mr. Amidu, paving way for the President to swear him in, the Attorney General and Minister of Justice said: "I am confident that Martin Amidu's appointment will be confirmed by the Supreme Court."

When reminded by one of the journalists that Dr. Ayine's Supreme Court suit creates a certain cloud of uncertainty around the appointment, the Attorney General snorted: "There is no cloud as far as I am concerned."
"Somebody thinks that age is a bar to it [appointment]. I think not," she added.

Dr. Ayine heckled

Dr. Ayine who has sued the state and Amidu over his age suitability for the Special Prosecutor job was hooted at by some MPs as he stood on his feet to address the chamber.

Mr. Speaker I am inviting your good self to make a determination humbly on this matter, in respect of this matter which is before the Supreme Court on the qualification or eligibility of the nominee," Ayine noted, citing his basis from order 93 of the standing orders of Parliament.

However reacting to the intervention, the Majority leader Osei Kyei Mensah Bonsu, argued that precedence before the house suggested the nominee could be approved by the House despite the pending case at the court.
Mr. Amidu will now have to be sworn by President Akufo-Addo to become the Special Prosecutor.



The Special Prosecutor

The Special Prosecutor is a specialized agency to investigate specific cases of corruption involving public officers, politically-exposed persons as well as individuals in the private sector implicated in corrupt practices and to prosecute the offences on the authority of the Attorney-General.

The Office is also expected to help reduce the workload on existing investigative agencies and, thereby, enhance their effectiveness. The establishment of the Office of the Special Prosecutor has become necessary in view of the institutional bottlenecks that impede the fight against corruption.