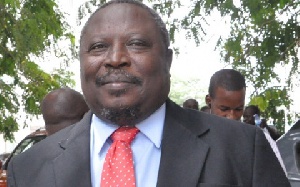 Ghanaian private legal practitioner based in the United States, Professor Stephen Kwaku Asare, has said the Special Prosecutor nominee, Martin Amidu, is overage to carry out the duties of Special prosecutor.
Professor Asare in an interview with Chief Jerry Forson on Ghana Yensom on Accra100.5FM, on Tuesday, 13 February 2018, said Mr Amidu has exceeded the retirement age of 65 as stipulated in the constitution for public officers.

His comment comes on the back of a suit filed by opposition Member of Parliament (MP) for Bolga East Dr Dominic Ayine, stating that Mr Amidu does not constitutionally qualify in terms of his age since he is 66 years now, which far exceeds the constitutionally mandatory retirement age of 60.

According to Dr Ayine, even though a person occupying a public office could have his tenure extended until he is 65 years old, Mr Amidu is currently 66 years, and, so, cannot occupy that position.

Professor Asare said a "Court of Appeal Justice retires at the age of 70, a High Court Judge retires at the age of 65 but if you are a public officer, article 199 (1) says you have to retire at the age of 60. In 1996, the constitution was amended and in article 191 (4) if you are special officer, government can hire you two years at a time without exceeding more than five years and that is Dr Ayine's argument and the Special Prosecutor office is seven years while Amidu is more than 60 years."
He said the argument that the office of the Special Prosecutor law says the Special Prosecutor's terms and conditions of office is like a Court of Appeal Justice and the Court of Appeal Justice retires at 70 years so the Special Prosecutor must also retire at 70 is flawed.

In his opinion, terms and conditions of service does not make the Special Prosecutor an Appeal Court's Judge and therefore their retiring age does not apply to the Special Prosecutor.

He therefore advised government to amend the constitution to peg the retiring age of the Special Prosecutor at 70 years.

"A Court of Appeal appointment is for life. Does that mean the Special Prosecutor is also appointed for life? No, he's only appointed for seven years so that should tell us that the employment tenure of Special Prosecutor is different from that of Court of Appeal Justice, so that argument is not a sound argument and is a flawed argument," he stated.