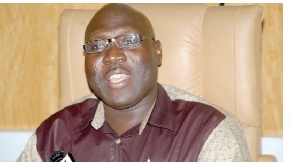 The Member of Parliament for Tamale Central and Member of the Constitutional Legal Committee of Parliament, Inusah Fuseini, has denied rumours making rounds that the Minority is against the Bill.
The Special Prosecutor's Office was a campaign promise by then candidate of the New Patriotic Party, Nana Akufo-Addo to fight corruption.

The Bill, which was withdrawn for greater public engagement is back in Parliament. The Attorney-General and Minister of Justice, Gloria Akuffo was in Parliament to move the motion for the re-introducing the bill.

Speaking to Ekourba Gyasi on Atinka AM Drive, Member of Parliament for Tamale central, Inussah Fuseni explained that the bill is a national necessity hence should work effectively without fear or favour when passed.
According to him, they are just making sure that the right thing is done since there have been attempts to tie the hands of the prosecutor into the kind of corruption cases to choose.

He stated that the bill should have operational independence to enable the prosecutor to have the mandate to select its own corruption related cases in order to be passed.