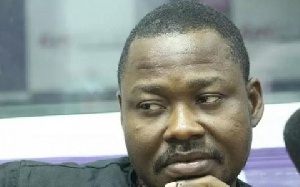 Greater Accra Regional Organizer of the National Democratic Congress [NDC], Anthony Nukpenu has described the office of the Special Prosecutor as a duplication, a waste of time and has nothing good to offer Ghanaians.
"I don't see the creation of this office as any good step taken by this current government. This is just a waste of the task payers' money which will not bring any merit to this country", he said.

He explained that the Economic and Organized Crime Office [EOCO] already has the powers for investigation and prosecution, which have for the past years performed excellently well.

He added that it is up to the Attorney General and his team of prosecutors to be up and doing than playing sycophancy and looking into the faces of political parties.

"For me, bringing another Special Prosecutor who is as well going to be acting somehow more on the command of a board and the Attorney General is just duplication and a waste of time. The Authority in charge of prosecution in this country is the Attorney General's Department, therefore if they feel we need more lawyers they should hire them to go to court with serious evidence of issues", Anthony Nukpenu stated on Kasapa FM's morning show programme.


According to him, he disagrees with the recent comment made by former President Jerry Rawlings because Martin Amidu's actions show he lacks the integrity and credibility in fighting the position due him.

To Mr. Rawlings "The appointment of Amidu as Special Prosecutor from outside his own party shows the President is serious. It vindicates some of us. No developed country should hold back in assisting our country to improve the lives of our people."

"Indeed, I don't fear Mr. Amidu because I don't see what he can do better than the Attorney General who is being empowered by the constitution to take legal actions. The job is not about you but about the law that binds the nation", Anthony Nukpenu said.

"We are waiting for the evidence of the Special Prosecutor to prosecute past appointees", he stressed.