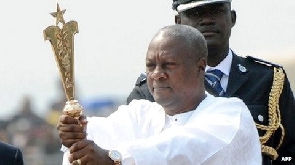 Former president John Dramani Mahama has been a frontrunner in Ghana's presidential politics for the past 12 years.
He is set to continue that run having been elected the flagbearer of the main opposition National Democratic Congress (NDC) ahead of the keenly-awaited 2024 polls.

In the last two weeks, he has 'triumphed' over two hurdles against his candidacy. One is a spiritual block that has supposedly existed since 2019 and the other is a legal challenge at the apex court.

Owusu-Bempah reveals 2019 block removed

I never said John Mahama will win 2024 elections - Owusu-Bempah laments media misreporting

Rev. Isaac Owusu-Bempah of the Glorious Word Miracle Church International has refuted media reports that he had prophesied that former president John Dramani Mahama will win the 2024 elections.
In an interview on Accra-based Okay FM, the clergyman stated that some conditions that blocked the return of John Mahama to office in his selection reelection bid (in 2020) had been lifted in the realms of the spirit.

He said: "Different times come with what God ordains or decrees," when asked about his widely-reported prophecy in 2019 when he told Peace FM that John Mahama's return to the presidency had been blocked.

Below is a partial transcript of what he said in Twi:

Isaac Owusu-Bempah, founder and leader of Glorious Word Power Ministries International last week stated in an interview that a spiritual stumbling block in Mahama's path to the presidency had been removed.

Asked by the radio host Kwame Nkrumah Tikese about the possibility of Mahama returning to office vis-a-vis his 2019 declaration that Mahama had been spiritually barred from the sea, he responded:
"Medaase paa sɛ we bisa saa asɛm yi. Esuno ebrɛbiaa ni diɛ Onyame ɛka, ni niɛ Onyame yɛ.

He went on to cite the example of how God forbade association with the ravine at a point but that God used the same ravine during a famine to send meat to starving Eliyah.

He continued in Twi: "ɛnti yɛ Papa John Dramani Mahama, diɛ na ɛbaa ɛbrɛ bi aa etswa mu no, aa ɛmaa Onyakopon eyii ninsa efrii ni so, aanfa akwondwa kɛsi no aandom no no, se sei ɛnti saa biom.

"Nti ɛyɛ nkrofuo bi sɛɛ sɛ diɛ na ɛti mmre bi aa estwamo no, saa na ɛti aa, nsisayɛ timi ba. ɛna onipa timi nya adwen sakyra, ɛna onipa timi nu no ho," he stated.

He has since clarified that his words are not a prophecy that Mahama will win the 2024 elections.
Legal challenge of eligibility thrown out

The Supreme Court on Tuesday (November 14) threw out a case filed by the editor of the Daily Searchlight newspaper, Kenneth Kwabena Agyei Kuranchie, against Mahama's eligibility to contest in the 2024 polls.

The apex court censured Ken Kuranchie, himself a lawyer, tasking him to go find a master and learn his legal trade under his feet.

With the dismissal, it was affirmed that Mahama can contest in the 2024 elections which will be his fourth consecutive run.

Winning in 2012 and losing back-to-back in 2016 and 2020, all three contests have been against outgoing President Nana Addo Dankwa Akufo-Addo.
It must be stated that Ken Kuranchie has announced that he will correct necessary mistakes and refile his case before the apex court.

SARA

Ghana's leading digital news platform, GhanaWeb, in conjunction with the Korle-Bu Teaching Hospital, is embarking on an aggressive campaign which is geared towards ensuring that parliament passes comprehensive legislation to guide organ harvesting, organ donation, and organ transplantation in the country.

Watch the latest episode of Everyday People below: