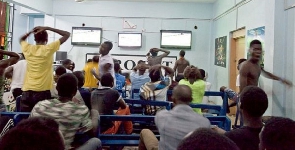 The government of Ghana is due to implement a 10% tax on earnings from lotteries, games of chance winnings and sports betting at the point of payout.
As part of the government's efforts to expand the tax base and increase domestic tax revenue, gamblers should be ready to have 10% of their earnings withheld as tax should the president assent to a newly passed bill by Parliament.

Multimedia Sports Journalist Fentuo Tahiri Fentuo explained the specifics of the aforementioned taxes, stating that they will be deducted from each individual's winnings prior to payout.

"In case you missed it by the way, there's a new 10% tax on your winnings from betting slips. it will be deducted before the payout. Take note and stop fighting the betting companies," he said in a tweet sighted by GhanaWeb.

Parliament passed three new tax measures during an extended sitting on Friday, March 31, 2023.

The three new taxes are the Excise Duty Amendment Bill 2022, the Growth and Sustainability Levy Bill, 2022, and the Income Tax Amendment Bill 2022.

The bills were presented to Parliament as part of government's plans to raise about GH¢4 billion annually in domestic revenue mobilisation.
They are also crucial to help secure Board Approval for the US$3 billion International Monetary Fund (IMF) Programme after a staff-level agreement was reached late last year.

As part of measures to meet the criteria set by the IMF to qualify for a bailout, the government has completed tariff adjustment by the Public Utilities Regulatory Commission (PURC), Publication of the Auditor-General's Report on COVID-19 spending, and Onboarding of Ghana Education Trust Fund (GETFund), District Assemblies Common Fund (DACF) and Road Fund on Ghana integrated financial management information system (GIFMIS).

The government in justifying the introduction of the taxes said they are critical for recovery from the current economic crisis.


In case you missed it by the way, there's a new 10% tax on your winnings from your betting slips. It will be deducted before payout. Take note and stop fighting the betting companies lol pic.twitter.com/FwMQzlulZq

— Fentuo Tahiru Fentuo (@Fentuo_) April 5, 2023
Please note that this is part of the new Tax Bills passed by parliament but have yet to receive presidential assent. So it hasn't taken effect yet. Just so you're aware though ????????

— Fentuo Tahiru Fentuo (@Fentuo_) April 5, 2023
The betting companies themselves have received a new 20% tax on their revenue lol. pic.twitter.com/d5Y1Cfpx6v

— Fentuo Tahiru Fentuo (@Fentuo_) April 5, 2023
Watch the latest episode of The Lowdown below:





AM/SARA