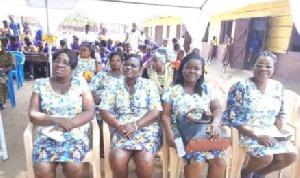 The Staff of Chemunaa Basic School in Accra has organised a send-off ceremony for the out-going Headmaster of the school, Mr Samuel James Ahorlu, honouring him for his sense of discipline and academic excellence.
The send-off ceremony included; students' performances and special gift presentations; as well as citation to the former headmaster Mr Ahorlu was delighted by the ceremony and thanked everyone who was involved in the celebration.

He said even though the task on teachers was challenging, they must continue their noble task of educating the children of the nation.

He said headmasters and teachers must be united especially when problems arise, adding that "the teeth bites the tongue always; but they stay together unitedly; therefore, solve your problems within and this will be a living testimony to the love you will have for each other".

He encouraged students not to lose focus on their primary aim of being in school; but allow the virtues, hard work discipline and moral values of the school be instilled in them and yearn to keep their environment clean.

He urged parents to support and care for their children; since they were legacies and future leaders of the next generation.

In Mr Ahorlu's time as the Headmaster, the Basic Education Certificate Examination from 2007 to 2012 had been excellent but declined briefly in 2013 and picked up again from 2014 to date.
He also led the school to several competitions such as Spelling Bee, Hygiene and sanitation, Mathematics, Science and ICT organised among schools in the institution's circuit.

The school recently won at the Junior High School level (JHS) and got the third position at the Primary Level.

Mr Yaovi Agbahode, the Headmaster of the school, congratulated the outgone headmaster and present staff for their good work despite the numerous challenges that confronted the school.

He said the school whose office he occupied, needed so much support and therefore solicited for the cooperation and support of all to achieve his goals.

He noted that the school needed to increase its enrolment, resolve furniture problems, ensure general maintenance and improve academic performance from Kindergarten to JHS as well as maintain general discipline.

There was an outpouring of praise and gratitude from teachers and students.