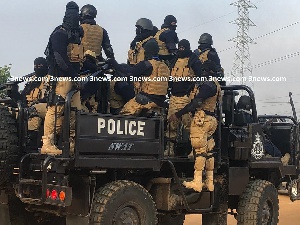 The Inter-Party Coalition for National Sovereignty says it has picked intelligence that some "elements" within the government are planning to deploy a state-sponsored terrorist group to cause mayhem in today's peaceful protest march.
According to the Coalition, the information it has received less than 24 hours to the Aagbe W) demonstration suggest the bandits who were unleashed to terrorise and brutalise some people during the Ayawaso West Wuogon by-election are going to be let loose once again on Thursday.

"…Some elements within the Akufo-Addo government are planning to deploy the same state-sponsored thugs who brutalised innocent citizens at the Ayawaso West Wuogon by-election last Thursday, at our 'Aagbe W)' demonstration," it claimed.

It warned such persons will be treated as bandits and arrested by protesters because they operate outside the country's mainstream law enforcement architecture.

"We wish to serve notice therefore that our members embarking on the demonstration on Thursday will affect citizens' arrest of members of the state-sponsored terrorist group who show up and hand them over to the law enforcement agencies, a statement from the Coalition warned.

The statement signed by the convener of the Coalition, Bernard Morna, said it will only recognise personnel from the Ghana Police Service who are mandated to ensure law and order at demonstrations, and no other group of groups.
The coalition said it is alarmed at the intelligence they have received owing to the illegal status of the said group, which said are made up of "bandits" in view of "their exceptionally violent methods".

It has meanwhile urged Ghanaians to join the demo in order to send a clear signal to the Akufo-Addo government that there is no room for state-sponsored terrorism of any sort under the current dispensation.

Turning up in their numbers, the coalition said will tell government that Ghanaians are prepared to rise to the occasion and resist terror from criminals who seek to inflict harm on innocent people.

"We call on President Akufo-Addo to halt any such deployment of these armed gangs as it would in our view, amount to the declaration of war on peaceful demonstrators".

Why the demo?
The coalition said its resolve to embark on Thursday's demonstration stems from the violent incident that temporarily disrupted voting process at one of the polling stations and led to the injury of at least six persons.

They explained the protest is to send a clear signal to the government to check the level of insecurity in Ghana, which they say is threatening the country's democracy.

"We announced our intention to embark on a massive demonstration dubbed 'Aagbe wo' demonstration to draw public attention to the looming threat on our democracy, peace and stability as well as to press further our demand for proper and speedy investigations into events of last Thursday's by-election," the coalition announced earlier this week.