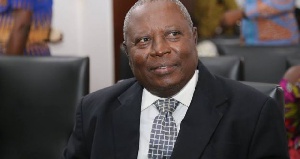 The man tasked to investigate, prosecute and get people found to have acted criminally against the state jailed, has himself recorded corrupt conducts in his office with two employees indicted for allegedly stealing fuel.
Ironically, the culprits, have strangely been set free by Mr Martin Amidu, with transfers to the state institutions they were brought from to the Special Prosecutors Office.

Accountant, Peter Owusu Afriyie and Secretary to the Special Prosecutor's office, Joseph Dasanah, drew almost ¢10,000 worth of fuel monthly, even though they are not entitled to it.

A memo from the then acting Head of Investigations, Julius Zodanu, to the Special Prosecutor, detailed how Joseph Dasanah –Amidu's secretary, and an accountant, both signed for fuel coupons even though, as unconfirmed staff on secondment, neither of them was entitled to it.

The memos, according to Accra-based Joy FM, showed further discrepancies with Joseph Dasanah's fuel claims. The secretary allegedly stole some GH¢5,300 worth of claims.

In one day, he made two fuel claims – GH¢400 and GH¢300 for his 2018 Toyota Corolla, a vehicle whose tank can only take GH¢250 to ¢300 worth of fuel at full capacity.

Independent assessments show a 2018 Toyota Corolla uses about 800 cedis a month, even though Joseph Dasanah, requested for 700 cedis in one of the days.

A full tank 2018 Toyota Corrolla, would have to be driven no less than 600km before it would require a refill, that's more than two trips from Accra to Kumasi.

Joy FM says it sources have revealed that in spite of the fact that the OSP's Chief Investigator submitted all this evidence to Martin Amidu on December 12, 2018, Joseph Dasana remains at post as Mr Amidu's Secretary.

But the accountant has been transferred back to the Controller and Accountant-General's office from where he was originally seconded.
Both of them remain government employees, and neither of them has been prosecuted although Mr. Amidu is to ensure this was done.

This paper on Monday reported how the General Secretary of the governing New Patriotic Party [NPP], was defending Special Prosecutor (SP), Martin Amidu's office, saying those claiming that it has been 'wasteful' are "laughable".

John Boadu, urged Ghanaians to "relax" arguing that, the former Attorney General, will soon 'strike' with prosecutions when concrete evidences are gathered.

The NPP scribe's defense came as The Herald, has picked up reports that the Special Prosecutor's office (SPO), is technically collapsed, that there are issues of lack of teamwork and coordination.

The Herald learnt that, Mr Amidu, is not on talking terms with lots of his subordinates and indeed, openly says he doesn't trust most of them.

Additional information available to this newspaper is that, one of his investigators was last week arrested by the Bureau of National Investigations (BNI) and had to engage the services of lawyers to have him bailed.

According to our BNI sources MrAmidu, had accused the investigator of being behind the leakage of the 26 cases involving officials of the previous and the present government, which are being investigated by Special Prosecutor's Office.

This is not the first time that, Mr Amidu's lack of teamwork and coordination with his subordinate has come up.

Under President Jerry John Rawlings it emerged many times with reports that he and Ghana's longest serving Attorney General and Minister of Justice, Dr. Obed Asamoah, who was his boss, have had a frosty relationship for years now.
Again, under President John Evans Atta-Mills, Mr Amidu, was sacked for attempting to assault the President, who had appointed him as his Attorney-General and Minister of Justice.

This happened inside The Castle – Osu in the full glare of some security chiefs, including the then National Security Coordinator, Larry Gbevlo-Lartey and some bigwigs of the then governing National Democratic Congress (NDC). They included Captain (rtd) KojoTsikata, the late Prof. Kofi Awoonor and many others.

He was sacked from the government after his apology was rejected by President Atta-Mills.

Prior to his dismissal, he broke rank with the NDC, calling some media houses which had reported on his non-performance and declared his office vacant, as "rented press" suggesting they had been hired to damage him over his strong stance against the GHC51 million judgement debt paid Alfred Woyome by his predecessor Betty Mould-Iddrisu.

Mr Amidu, became a darling boy of the then opposition NPP, leading to his appointment as the SP by President Akufo-Addo, on winning the 2016 presidential election.

However, Amidu's non-performance is showing with many, saying the President Akufo-Addo, may have failed in his attempt to fight corruption by appointing him as SP.

But John Boadu on NEAT FM's morning show 'Ghana Montie' argued that, the former Attorney General, will soon 'strike' with prosecutions when concrete evidences are gathered, adding "They should just relax; Amidu is gathering facts to start prosecution."

Media report had claimed that some 26 cases, are receiving attention at the Office of the Special Prosecutor.

It includes opposition figures as high profile as former President John Mahama and government appointees under the Akufo-Addo administration, such as Board Chairman of the Ghana National Petroleum Company and National Chairman of the governing NPP, Mr Freddie Blay.
Martin Amidu, whose eligibility for the job with respect to age, is being challenged in the Supreme Court, has so far filed one case in court among the alleged 25 cases.

The office, which is the President's promised solution to political graft, was created by law in 2018.

He was sworn in as the first SP on March 1, 2018, with a secured tenure which is believed, will protect the appointee from political interference which is said to have undermined the fight against corruption.

Interestingly, the anti-corruption crusader, Vitus Azeem, has taken a swipe at the Akufo-Addo government for failing to live up to its promises of ensuring the Office of the Special Prosecutor functions effectively to get the desired results.

According to him, the lackadaisical manner in which government went about setting up the office, is what has resulted in the lack of prosecution from that office more than a year after it was established.

Sharing his views on the performance of the Office of the Special Prosecutor on TV3's 'The Key Points' show Saturday, Mr Azeem, said Mr Amidu, ought not to be blamed.

Rather, the NPP government, has themselves to blame for raising the hopes of Ghanaians through their campaign promises and not matching that with their deeds, he said.

Having made a lot of promises with regards to the Office, he said, the NPP, should have prepared adequately before appointing Martin Amidu.

"The reactions that we are getting from the public are as a result of the fact that people's expectations were heightened.
"This was a campaign issue and when government took over, they have continued to take credit for the establishment of the Office of the Special Prosecutor as a demonstration of their commitment to the fight against corruption, not only in Ghana, but outside Ghana.

"And so people are saying you set up this office, we are not seeing what is happening…So the point is yes, we are not seeing what we expect of the Office the Special Prosecutor but can it be blamed on office and the individuals there, or it has to be blamed on a statutory authority or the appointment authority, and for me, a lot of the blame should be put on the government of the day," Mr Azeem asserted.

According to the anti-corruption crusader, there is more to clamp down on corruption than just appointing a Prosecutor.

He reiterated that government failed to allocate resources to the office on time, and that the constitution of a board, budgetary allocation amongst other things, also delayed.

This, he said, hindered the functioning of the office, hence, the lack of prosecution a year after its establishment.