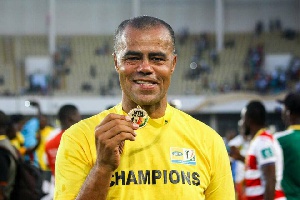 Ex-Asante Kotoko head coach Steve Pollack has requested that all victims involved in the Nkawkaw accident which claimed the life of the team's kit manager should be compensated for the trauma they to go through.
Pollack, 57, suffered a broken leg and neck pains with some of the players suffering various degrees of injury in the fatal crash last June.

The team's kit manager lost his life following the accident.

The Porcupine Warriors marked one year of the disaster last week but according to the Birmingham born trainer, all those on board should be recompensed because some are still sufering from the injury.

''The simple principle is that there should be some kind of compensation for the accident victims and someone must be liable for it."

"Where are all the donations that people made to the club after the accident?'' Pollack told the Graphic Sports from his base in Finland.
''Some of us will live with the injury conditions for the rest of our lives as a result of the accident."

"I still have problems with my neck and my back and my doctor says I am going to have that problem forever, yet I don't have any compensation for it."

''It is very inconsiderate and unfair of the club to take that stance of not providing any compensation because they picked the medical bills."

"If for nothing at all, Kotoko should consider the trauma we as victims went through by giving some money to the victims.''