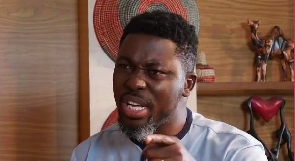 Musician Kwame A Plus has revealed the reason behind his difficulty with honoring interviews.
He believes the more pertinent issues which should be focused on by journalists are shoved aside while questions about the personal lives of the individuals being interviewed are put on the spot.

A Plus is certain that the time used to probe his personal life will be more profitable if it were used to seek solutions to the major challenges in the country.

It is for that matter he says, he will make time for more important interviews than focus on trivial ones.
His statement falls on the back of the question about his alleged 'crumbing marriage', posed at him by a presenter during an interview on an Accra-based radio station.

"The reason I find it difficult going for radio interviews is stuff like this. As we speak, there are people lying in the hospital and they are dying because there are no hospital beds and there are people who are on the floor to give birth, people are dying because they are drinking from the same pond with animals and when I googled when I will die it gave me about 25 years. I see the seconds ticking it means that my life is wasting and so I don't have time for foolish things. Like to sit down and waste time on fooling, I don't have time for it," he said.

The satirist urged Ghanaians to ensure that they force government to continue projects and programs of previous government as government loses over 25 million dollars to uncompleted projects and programs every year. He also called for a review of the constitution.