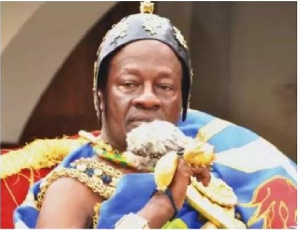 The Omanhene of New Juaben traditional area Daasebre Prof. Emeritus Oti Boateng says poverty will end if traditional rulers in the country unite to fight for the welfare of the people.
He says there is no justification for Ghanaians to be poor considering the abundance of natural resource in the country.

"If chiefs unite, poverty will end in this country. I tell you it takes a leader! It takes a leader, and I am that sort of leader. Come what may, it takes a leader, Oti Boateng is a leader. Why should we look on for our people to be impoverished. Why not using the knowledge we have. The bickering and divisions are too much".

According to him, he has commissioned a "Root Based Line Intervention survey" into the needs of his subjects in all 12 communities in New Juaben which covered 1,134 households to serve as a framework to guide policy interventions to improve the living standards of the people.

Oti Boateng stated that he will not die until he accomplishes his vision for his subjects.

"I will be 82 years coming month but I will not die until I accomplish my vision for New Juaben".
The Omanhene of New Juaben Traditional Area said this when he enstooled two chiefs including his biological son in his quest to galvanize development for the traditional area.

The newly installed Chiefs are Nkosuohene – Nana Kwame Baafi Boateng, 60, known in private life as Joseph Kwame Baafi, a Pharmacist by Profession, and Nana Yaw Sarpong Boateng , 40-year-old businessman and a biological son of Daasebre Prof Emeritus Oti Boateng, enstooled as Akyimpemhene.

Professor Emeritus Oti Boateng directed the Akyimpemhene to hold a forum for the youth to share views on economic empowerment and other related issues affecting the youth.

The newly installed Akyimpemhene, Nana Yaw Sarpong Boateng, told Starr News, youth empowerment is critical to any policy intervention, therefore, will ensure that challenges of the youth in the traditional area are prioritized in the Omanhene's Root Base Developed agenda.

He was optimistic that, as youth leader, issues of job creation and education will receive the utmost attention.