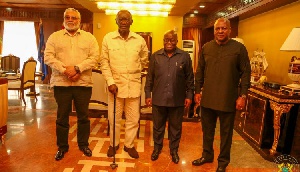 A Senior Research Analyst with the Institute of Fiscal Studies, Dr. Saeed Boakye has asked the Akufo-Addo government to stop blaming its predecessors for the economic woes of the country.
According to him, such blames games do not improve the outlook of the state and efforts to stabilize the economy.

The comment comes as President Akufo-Addo is set to deliver his second state of the nation address today in Parliament. Some analysts have said the address will be dominated by the government's efforts on the economic and security front of the country over the last one year.

Job creation and measures in reducing youth unemployment are also among key expectation of Ghanaians as the Agric minister's claim that over 745,000 jobs have been created through the government's Planting for Food and jobs project have been greeted with doubt.

Speaking to Francis Abban on the Morning Starr Thursday, Dr. Boakye said the Ghanaian economy is yet to stabilize despite positive efforts by the government.
"With regards to stability….the economy has improved. The rate of the GDP growth was low but it has improved. The economy is not so strong…we are trying to stabilize it. Governments should stop blaming previous governments for state of the economy. I don't like the blame games. In banking, politicians blame and take credit for things happening. I don't see why politicians blame other politicians for what happens in banking".

Dr. Boakye also noted that Ghanaians do not appear to feel the impact of oil in the economy because the benefit goes to foreigners.

"About 70% of the oil revenue goes to foreigners and as a results the revenue doesn't reflect in the pockets of the ordinary Ghanaian".