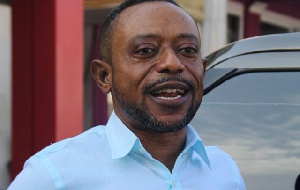 Allegations of skin bleaching involving the Founder and Leader of Glorious Word Power Ministry International Reverend Isaac Owusu Bempah have reemerged.
This time, a Junior Pastor of Opambour Ebenezer Adarkwa Yiadom popularly called Prophet 1 counselling Isaac Owusu Bempah to stop bleaching his skin because it does not speak well of him and his congregation.

He questioned why the man of God has resorted to bleaching likening him to an HIV/AIDs patient with his pale physique.

Chief said Owusu Bempah would not have dared to bleach his skin if he is indeed a true man of God as he has been touting.

'Stop bleaching, you look just like an HIV/AIDs patient, what kind of pastor bleaches, you will never bleach if you are a true pastor,' he spewed in a video sighted by MyNewsGh.com.
His comment comes after Owusu Bempah during a sermon mentioned a list of good and bad pastors, indicating to his congregation and Ghanaians the good ones they can visit their churches to worship.

A livid Junior Pastor of Prophet 1 of Ebenezer Miracle Worship Center described Owusu Bempah as a fake pastor who deceives people with his prophecies.

He advised the Founder and Leader of Glorious Word Power Ministry International to deliver his mother from marrying him spiritually, saying his mother is the cause of his womanizing attitude.

'I will be very ashamed if I were part of your junior pastors. I will be very sad to be under you because you don't have good morals to teach me. Always sleeping around with women, you are now with a fifth wife, what kind of a pastor are you?. Deliver your mother from marrying you spiritually, so that you will be free to marry. Can you compare your fake prophecies to that of Prophet 1's authentic prophecies? Useless Rev. Owusu Bempah,' he fumed.