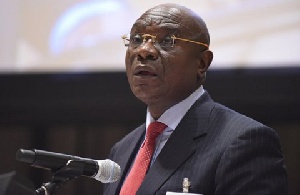 A former Speaker of Parliament, Edward Doe Adjaho, has berated officials of the Auditor General's Department over their failure to guard the 2016 audit report on Ministries, Departments and Agencies before getting to Parliament.
The 2016 Auditor General's report on the MDAs is already in the public domain and has been the basis for media discourse in the past few days. The Auditor General himself has been in the media speaking to the issues.

However, Mr. Adjaho is incensed about the development, arguing it violates best parliamentary practices.

"My understanding of the law, and the best Parliamentary practice is that prior to publication, audit reports must be laid in parliament. These reports are subsequently referred to the Public Accounts Committee for consideration and referred to the whole House," the immediate past Speaker of Parliament said at a public event.

He added: "Yet, in recent times you read in the media about reports and when you try to get a copy from Parliament you're told it has not been laid.

"Interestingly, these reports are generating public discourse ahead of the examination and consideration of parliament. This is wrong and impugns on the work of the Public Accounts Committee."

According to him, an auditor's report does not put finality to a case hence the need to allow the Public Accounts Committee (PAC) to interrogate the issues.
"The truth is that auditors also do make mistakes. My position is that we should at all cost resist the temptation to leak audit reports which may not necessarily be final on the matter before the reports are laid in the House," the former MP stressed.

"I went on the net on my phone and I saw somebody against whom one of the adverse findings have been made against him, challenging two ministries and the Auditor General. It is not too good for us.

"Once you finish with your report send it to Parliament to do their work. When people are surcharged and they disagree, under the law they can go to the High Court to challenge the surge. Let us allow the due process and let us respect the due process. We should not allow these reports to become propaganda tools in the hands of politicians and I mean NDC and NPP in particular. This will absolutely undermine the process and create challenges that weaken the legislature," Mr. Adjaho advised.

PAC is yet to announce a date to examine the latest Auditor General's report.