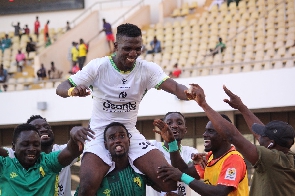 Former Ghana international, Mohammed Gargo has urged followers of the Ghana Premier League to be measured in their hyping up of Abednego Tetteh who is the leading scorer in the competition.
Gargo's comments come in response to calls for Tetteh's inclusion in the Black Stars squad for the upcoming 2023 AFCON qualifier against Madagascar.

Tetteh has impressively scored 16 goals in 27 games in the Ghana Premier League, surpassing the goal tally of all the four strikers invited by Chris Hughton for the game against Madagascar on June 18.

Speaking to Radio Gold Sports, Gargo stated that Tetteh deserves a call-up but will need time to adapt.

"They [Ghana coaches] should call him, but they should gradually integrate him into the squad. They shouldn't call him and expect him to immediately displace someone who has achieved everything and is playing in Europe, just to give Abednego the chance."
Gargo stated that excessive hype of players in Ghana raise high expectations. He cautioned Tetteh to make a good statement for local players if he later gets a call-up.

"You know we overhype our boys sometimes too much. It's good if they are going to call him but he should come and start learning from there. He shouldn't come for people to start thinking especially when the Black Stars are playing and things are not going well, Abednego, Abednego, it will not help us. The local ones are not yet there at all." Mohammed Gargo told Radio Gold Sports.

The Black Stars are scheduled to face Madagascar in an away qualifier match in Antananarivo on June 18.

JNA/KPE