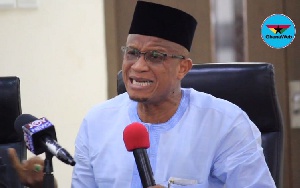 Information Minister, Dr Mustapha Abdul-Hamid, has implored Ghanaians to tackle issues of education in the country as a national concern rather than play politics with it.
He says matters bordering on education should not be politicised.

According to Dr Abdul-Hamid, "If we politicise education and we have the kind of terrible human resource that we have, we are going to be saddled with the kind of social problems that we are saddled with: Ignorance, disease, poverty, etc. I'm here talking to you as Minister of Information, poor boy from Upper East and Northern Region, I am talking to you like this because of education, if I hadn't gone to school, what would be my locus, education is my locus. So, really and truly, issues of education, we should try as much as possible to depoliticise it".

He, however, noted that as is typical of human beings, policies and programmes of government would always be criticised.

The Minister told journalists at the Regional Coordinating Council in Tamale on Tuesday night that the government thinks through its policies thoroughly before deploying them as part of measures to transform the country.

"When government sits through and we think about a policy and a matter, we have done so sincerely, believing it to be the best option for our country", he stressed.
He accused some civil society groups and think tanks of always finding fault with interventions and programmes of government when there are none.

Meanwhile, Deputy Minister of Education, Dr Yaw Osei Adutwum said government anticipates the enrolment of some 472, 000 students in the 2018/2019 academic year, which starts in September.

Double-Track system

Dr Adutwum said the government is considering a number of options in implementing the double-track system for senior high schools which starts in September.

He said apart from government making an appeal to development partners for support in implementing the programme, it is also considering partial securitisation of the GETFund and capping the GETFund at 25 per cent, among others.


According to Dr Adutwum, the partial securitisation of the GETFund will offer government the opportunity to seek financial support from investors to build infrastructure for the senior high schools. He revealed that the Finance Ministry intends funneling some $500 million into the construction of accommodation facilities for the free SHS policy.



The double-track system is expected to help reduce class size, accommodate more students and use the semester system to increase contact hours. Ghana is emulating countries such as the United States of America, Japan, Costa Rica, Australia and Kenya which are practising the double-track system.