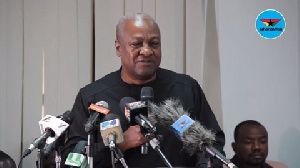 Head of Political Science Department at the University of Ghana, Professor Ransford Gyampo, has advised former President John Mahama to accept he is part of the reasons why most Ghanaians are not patriotic.
Speaking at the party's ideological institute during the first batch of students intake, Mr. Mahama said most Ghanaians are no longer interested in in working to improve the lives of ordinary people, preferring to cater for the interest of their relatives.

"Nationalism and patriotism have become very deficient in Ghana today—We all think about ourselves first, our families second, our parties third maybe our communities fourth and Ghana comes a fifth or even 10th."

Professor Gyampo however said Mr. Mahama could have changed the very thing he is complaining about during his stay in power but, he rather spent time seeking the interest of his relations and personal friends. He said he failed to live "exemplary" life and that was emulated by some of this appointees, who felt emboldened to plunder while majority of the citizens live in penury.
The former president is accused of allowing his younger brother, Ibrahim Mahama, to almost run government as a defacto Prime Minister, winning all the big contracts at the expense of more qualified businesses.