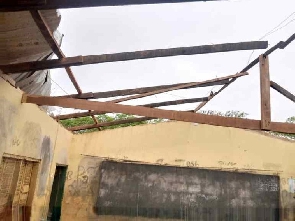 Correspondence from Ashanti Region
A heavy rainstorm that occurred in some parts of the Ashanti region following Monday night's rainfall has destroyed church buildings, houses, and schools in Ajamesu in the Bekwai Municipality.

The unfortunate incident has rendered some residents homeless whilst occupants of affected schools and churches have been displaced.

James Amankwa, an assembly member for the area, told GhanaWeb's Ashanti Regional Correspondent, Nana Peprah, that the affected schools include Zion Primary 'A' and 'B' schools, Zion M/A JHS and others.

He said, one of the two affected churches, Ajamesu Zion Presbyterian Church, had its roof taken off, while over 15 residential buildings were affected by the storm.

According to him, the rainfall which lasted for about two hours was accompanied by fierce winds, which ripped off the roofing of the various homes, churches, and the aforementioned school buildings.

He said the heavy rainstorm which ripped off different buildings also destroyed some buildings exposing properties such as textbooks, exercise books, musical instruments, electricity installations, accessories and other vital documents to the rain.
He further revealed that both Zion M/A, Zion JHS and Primary B school roofing was ripped- off and parts of the buildings destroyed.

"We thank God no one was injured during the incident. This is because the students were not in school during the rain while the church was not progression," he noted.

Mr. Amankwa further disclosed that electricity poles and billboards were also destroyed, leading to a temporary power cut.

But as at the time of filing this story, the assembly member said powere had been restored to parts of the area after the Electricity Company of Ghana visited the affected communities.

He explained that about 200 students were currently studying under trees as part of NADMO, and the municipal education directorate assessed the extent of damage, adding that "it is a very serious incident because we have tall trees falling and all that. Now when there's another storm, imagine what will happen, though we're not praying for that."

Mr. Patrick Peezy, headmaster of Zion Primary B' said the unfortunate incident has affected their studies.
He said the amount of damage caused is yet to be quantified.

Opanin Owusu Abu, head of the Aduana clan in the Ajamesu community, narrating the sad incident to GhanaWeb, said the unprecedented incident had left the entire town devasted.

"I was in my house when I heard lots of noise following the storm. This compelled me to come out only to find the roof of the schools had been ripped- off by the storm. I had no choice but wait for the rain to calm down, and after the rain, things had got worse," he explained.

He however called for support from the government, NGOs and other philanthropist individuals to come to their aid.