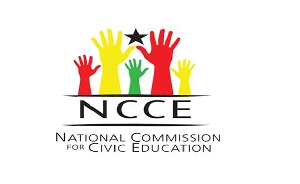 Sat, 3 Jun 2023 Source: GNA
Samuel Atando Akolgo, the Garu District Director of the Commission for Civic Education (NCCE) in the Upper East Region has admonished pupils and students to focus on their education to become agents of change in their respective communities.
He said education, coupled with the tenets of discipline and a sense of responsibility were key values of building a peaceful and development-oriented nation and urged the students to embrace such values to contribute significantly to societal transformation.

Akolgo gave the admonishment when the NCCE engaged some pupils and students in separate basic schools in the district as part of the commemoration of this year's Citizenship Week Celebration (CWC).

The broader theme is "30 Years of Consolidating Constitutional Democracy: Building National Cohesion through Civic Education and Participation in Local Governance", with sub-theme as "30 Years of Consolidating Constitutional Democracy and Building National Cohesion: The Role of the Ghanaian Child".

The District Director explained that the goal of CWC was to remind pupils and students of their responsibilities as agents of change, and future leaders who could help build a peaceful, strong, and united democratic Ghana.

"The Commission celebrates 30 years of consolidating our democratic gains and building national unity, it is important to reinforce civic values in children with the aim to reorient their attitude toward playing positive roles in our democratic journey," he said.
Akolgo who advised the pupils and students to study the Constitution to imbibe in themselves the spirit of patriotism and nationalism, discipline, integrity, loyalty, and accountability among others, urged them to be tolerant to strengthen social cohesion.

Sampson Alhassan Azure, the Assistant Director at the Garu District Assembly, who launched the CWC, said the Constitution guaranteed compulsory and free education to every Ghanaian child, and because education was dear to the government, the Garu District Assembly had completed and handed over three (3) unit classroom blocks with furniture to some schools.

He said other schools had been awarded and were at various stages of completion and processes were underway for the re-roofing and renovation of ripped-up schools and structures across the district to promote effective teaching and learning.

Philip Alale, the Garu District Director of the Ghana Education Service, commended the NCCE for bringing civic education to the doorstep of the pupils and students and advised the school children to desist from drug abuse and focus on their studies.
Source: GNA