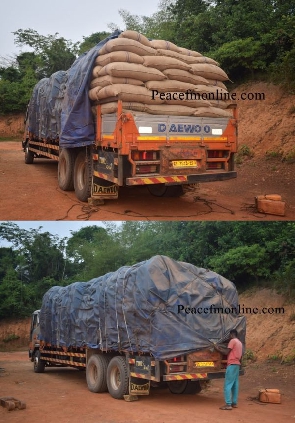 The Suaman District Security Task Force led by the District Chief Executive Officer, Mr Philip Kwabena Boahen has impounded 336 bags of cocoa beans suspected to be enroute to Cote D'Ivoire for sale.
Smuggling of Cocoa beans has become a ritual among some residents in the Western North Region, specifically Suaman Dadieso District, Bia West and East over the years.

The unpatriotic behaviour of these people has forced the Chief Executive Officer of COCOBOD, Mr Joseph Boahene Aidoo, to send a stem warning to farmers and some unscrupulous persons in the area to desist from the act since it goes with punishment when arrested.

COCOBOD has also embarked on several education to farmers and residents on how government is investing in terms of farm inputs supply and the cocoa rehabilitation programme with the sole aim of halting smuggling.

Mr Philip Kwabena Boahen, Suaman Dadieso District Chief Executive, in an interview with UTV's Western North Regional correspondent Kwabena Dickson, noted that as part of the effort to clamp down on these illegal activities, they formed a task force to monitor the activities of those smugglers.

Around 4am on Wednesday morning, March 22, 2023, a Daewoo Truck with registration number AS 3513-19 loaded with bags of cocoa in jute sacks was intercepted by the task force in the Dadieso-Enchi forest reserve enroute to Sefwi Akaatiso which shares boundary with Cote D'Ivoire.
Upon interrogation, it was found that they were heading towards the neighboring Cote D'Ivoire for sale.

The Task Force led by the District Chief Executive Officer then led the vehicle to a nearby police station and subsequently, the driver and his mate were arrested.

The vehicle has been taken to the Dadieso Police Headquarters for further investigations.

You can also watch this episode of People & Places here: