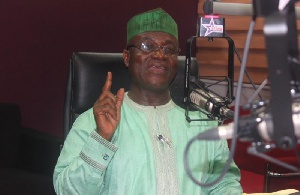 The Majority Leader in Parliament and Minister for Parliamentary Affairs, Osei Kyei Mensah-Bonsu says Ghana has failed to progress partly because of substandard ministers appointed by successive governments.
According to the Suame Member of Parliament, most ministers appointed lack the technical and basic knowledge of the ministries they are supposed to head.

Speaking to the press at a media soiree to officially define the role of his ministry, Kyei Mensah-Bonsu stated that ministers who lack the understanding of their ministries won't be able to help the President formulate policies that will move the nation forward.

"We are in a country where ministers are nominated to certain sectors and when they appear before the appointment committee and you ask them the most rudimentary of questions pertaining to that sector, they are not able to tell you. They only tell you that 'I'm a new person let me go there I will learn' Learn what?
"When the constitution provides that cabinet ministers are to assist the President to run the state efficiently, that is the remit of ministers and if you are a cabinet minister, the additional responsibility on you is to assist the President evolve policies. What of that man who appears before the appointment committee who is asked the most fundamental questions relating to the sector and he tells you 'I'm going to learn'. How is that person going to assist the President to run that sector efficiently?," Mensah Bonsu said.

He added, "how is that person going to assist the President to evolve policies in that sector? This is one of the reasons why we are not moving forward as a nation as fast as we should. It's like the dance of some people that I know. They move one step forward and two steps backwards."