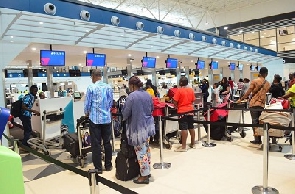 Mon, 1 May 2023 Source: GNA
The first batch of 74 Ghanaian nationals being evacuated from war-torn Sudan will be airlifted from Addis Ababa to Accra on Tuesday, May 2, the Ministry of Foreign Affairs and Regional Integration, has said.
The Ministry in a statement, shared with the Ghana News Agency, said 76 Ghanaian nationals had successfully crossed the Sudan-Ethiopia border with the assistance of officials of the Ghana Embassy in Ethiopia and were currently in Addis Ababa.

It said arrangements were in place to fly 74 of them to Accra on Tuesday May 2.

Additionally, one footballer and two engineers had been assisted by officials of the Ghana Embassy in Egypt to cross over the Egyptian border post of Wadi Halfa, north of Sudan, while two other footballers were going through immigration formalities, itsaid.

"The Ministry wishes to reiterate its commitment to evacuate all willing Ghanaians nationals in Sudan to safety to neighbouring countries such as Egypt and Ethiopia," it assured.
It, therefore, urged those in need of assistance to take note of the details of the following persons who were on standby to help them to cross the respective borders.

For Egypt, Peter Okoe Agoe Allswell can be contacted by phone number +201-55441-4228, whereas, for Ethiopia, Samuel Asante can be contacted by phone number +251-94242-1242.

Also for Sudan, Osama Ataaelmanna can be reached on Whatsapp number +249-92920-0000/+249-91239-2570.

The statement said the Ministry would continue to keep the public abreast of new development regarding the evacuation exercise.
Source: GNA