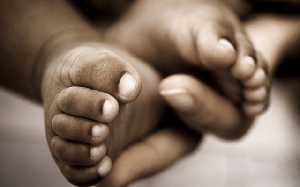 Amnesty International (AI) Ghana is calling for justice for the family who lost a nine-week-old baby at the St. Gregory Hospital after a medical doctor ordered that oxygen supply be cut to the baby.
The Director of AI Ghana, Robert Amoafo Akoto, who spoke in an interview with Class91.3FM's Joshua Mensah on the sidelines of the launch of the 2017 Global Death Penalty report on Thursday, 13 April 2018, requested a speedy probe into the incident by the Ghana Health Service and the report made available within one month.

"Don't hide the report, within a month we want to get the report, tell us everything that happened and we as advocates will take it from there so that we don't get another life being lost," he said, adding that AI Ghana is available to offer any form of assistance to the family to ensure that justice prevails.

He also encouraged the affected family to take legal action against the hospital and the health personnel in charge.

"Sue the hospital and ask for damages for what has happened and then also ensure that the medical doctor or whoever was responsible goes through the disciplinary process and justice served," he advised.
The oxygen supply to little Prosper was shut on the orders of the doctor over his parents' inability to raise GHS533 to pay his bills.

Little Prosper had been on admission at the hospital since 5 March due to respiratory problems until his death three weeks later.

The GHS has launched an investigation into the matter.