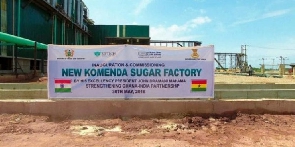 Wed, 18 Jan 2023 Source: GNA
Sugarcane Out-growers Association of the Central and Western regions (CWSOA) engaged to supply their produce to the Komenda Sugar Factory, have resolved not to sell their produce to the factory anymore due to what they described as a breach of the purchase agreement.
According to the farmers, the inability of the factory to purchase the thousands of tons of sugarcane ready for harvest was a disincentive to their hard work and contractual agreement.

Consequently, the Association had apologized to distillers for refusing to sell their produce to them some months ago, as it anticipated to sell them to the factory, and appealing to all sugarcane distillers across the country to come over to buy their produce.

A press release copied to the Ghana News Agency in Cape Coast and signed by Nana Nsanewodze, Executive Chairman of the association, said: "We apologize to the 'Akpeteshie' distillers for our refusal to sell our sugarcane to them from July to September 2022.
"We sold our sugarcane to the factory, but now they are no longer buying from us, and we want to engage you to sustain our livelihoods."

The farmers questioned the inability of the factory to function after the visit by President Nana Addo Dankwa Akufo-Addo in September 2022 and declared: "we want the management and Board of the factory to know we will not sell our sugarcane to them again for disappointing us."
Source: GNA