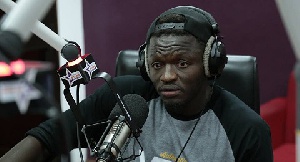 Sulley Ali Muntari is not happy with the Communications Director of the Ghana Football Association, Ibrahim Saanie Daara.
In a latest interview, the 32 year old footballer lashed out at Saanie for suggesting the GFA called him after he suffered racial abuse in Italy.

The star midfielder and his wife were being interviewed on Starr FM when Sani texted in to rebut Sulley's statement indicating that the GFA did not reach out to him.

"Saanie shouldn't try and call you or talk to you." Sulley fumed. "People like that don't deserve anything. Where is he, how did he call you.

"No, don't show me your hand, no no.. [telling his wife Menaye not to calm him down] What did he want. Who called, Alex Asante called me? He said he called me? This guy, you know what happened, I was at home and then Tony Baffoe wanted to talk to me and so he called me and couldn't get me so he asked Alex to call me.
"Alex called but I didn't know it was Tony that asked Alex to call me, but I'm really cool with Alex, he is a really good guy and since I started playing the national team, he has been good to everyone in the national team.

"In the GFA he works really hard, I always talk to him. I saw his missed call so I called back and he said Tony was there and wanted to talk to me. After that, Alex said President is here and he wants me to speak to President. Is that a phone call?

"He shouldn't call you and say the GFA called me. Sani, keep quiet, what are you saying, have you lost your mind?"