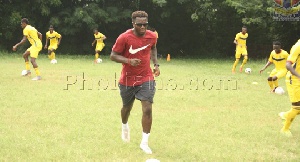 The Managing Director of Hearts of Oak, Mark Noonan has hailed Sulley Ali Muntari tagging him as the most perfect example of class.
The former Portsmouth midfielder who is on vacation has been training with Hearts at the Legon Ajax Park for the past two weeks in a bid to keep the shape.

Muntari, who is known for his known for his kind gesture, gave all the 22 players $100 after Monday's training and presented the team with frozen fruits on Tuesday.

"I think Sulley's decision to train with us is awesome. It is a credit to the quality of the Hearts brand for the fact that we have kept training in this environment [despite football being at a standstill in this country]," Noonan told phobians.com
"The reports I have gathered from training concerning Sulley's positive attitude and professionalism has been amazing. Sulley is not only a quintessential professional but a man who has never forgotten where he came from.

"Sulley's presence will not only inspire our young players to dream big dreams, but it has also shown our players what it means to be a professional."

Football-related activities in the country have come to a standstill after the airing of the Anas Aremeyaw Anas 'Number 12' documentary which uncovered the rot in Ghana football.