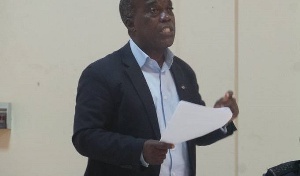 The Sunyani Municipal Office of the National Health Insurance Authority, (NHIA) has been overwhelmed with the huge number of people wanting to register freely onto the health insurance scheme under the pretext of being 'very poor.'
The trend has the tendency to further deepen the woes of the Authority which is already confronted with plethora challenges, affecting public confidence in the National Health Insurance Scheme (NHIS) as the surest backbone of quality healthcare delivery in the country.

According to the Ghana Statistical Service, the population of the poor in the Sunyani Municipality stands at a little over 18,000 but the registered and waiting poor list of the NHIA far outstrips the GSS figure.

Mr. Patrick Koku Kuagbenu, Sunyani Municipal Manager of NHIA, said the Authority has been liaising with religious and traditional leaders as well as the Department of Social Welfare to assist in identifying poor persons in society for free registration, but some of the clergies and chiefs have been furnishing the Authority with bloated lists full of economically-sound people as destitute individuals.

The Authority, he noted, already has large number of poor on its roll and any attempt to freely register people outside the poverty bracket as such could be inimical to the sustainability of the insurance scheme.

A total of 46,192, representing 54.2% out of its total enrolment of 85,225 have been registered free. So far, the Authority has registered 3,206 pregnant women, 6,420 indigent/vulnerable people, and 36,566 school children below 18 years, he indicated.
Mr. Kuagbenu was addressing a stakeholders' forum in Sunyani. In attendance were service providers, subscribers and officials of the NHIA. The forum was to, among other things, review the performance of the NHIS and iron out their differences in order to improve the scheme.




He said coverage of NHIS in the Sunyani Municipality as at the end of November 2016 stood at 85,225, representing 80% of the 106,388 target for the year. But the membership figure is just 58% of the entire population of the Municipality which is about 146,839.

Touching on claims management, he stated: "the trends in claims volumes and amounts have shot up above the roof, one of the reasons we are indebted to service providers. We share in your difficulties and appreciate your resilience and coping mechanisms. I wish to convey our hearty appreciation for your forbearance and fortitude in keeping the NHIS going."