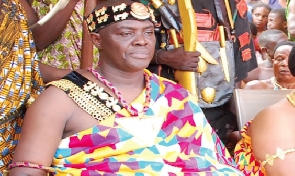 Tue, 3 Jan 2017 Source: GNA
The Paramount Chief of Dormaa Traditional Area, Osagyefo Oseadeeyo Agyemang-Badu, has appealed to all Ghanaians to support the president-elect, Nana Addo Dankwa Akufo-Addo, for development and progress.
While commending President John Dramani Mahama for magnanimously conceding defeat in the December 7, 2016 elections, he urged Ghanaians to avoid the politics of insults in the society.

Osagyefo Agyemang-Badu made the appeal when he addressed an annual get-together for the divisional and sub chiefs and their elders in the Dormaa Traditional Area.

He said politics was meant for development, and now that election 2016 is over, there is the need for Ghanaians to bury their political differences and support the in-coming government of the New Patriotic Party (NPP).
Osagyefo Agyemang-Badu said traditional rulers have a significant role to play in nation building but that must be done with due diligence and the greatest degree of objectivity.

He said since traditional rulers are the embodiment of the people, they had the right to check and either criticise or commend successive governments where necessary.

Osagyefo Agyemang-Badu cautioned the people of Dormaa to observe the traditional values of the area to enhance the development. Source GNA
Source: GNA