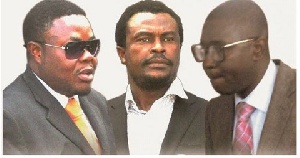 The Supreme Court will today hear petition filed by three Ghanaian legal practitioners against the Attorney General(AG) challenging the constitutionality of former President Mahama granting Presidential pardon for the Montie 3 who were jailed for contempt of court in 2016.
The plaintiffs Nana Asante Bediatuo, Elipklim Agbemeva, a private legal practitioner and Alfred Yeboah contend that the President cannot arrogate unto himself powers exclusively within the bosom of the judiciary by the constitution of Ghana.

They are further pleading the apex court to strike down as null and void and of no effect, the purported pardon granted by former President Mahama of a remission of the punishment of a 4-month jail term imposed on Alistair Nelson, Godwin Ako Gunn and Salifu Masse.

On the part of Nana Asante Bediatuo, the presidential pardon granted the three was unconstitutional as the former President purported an unwarranted exercise of the Prerogative of mercy. In this specific case in issue, is tantamount to an exercise of Judicial functions in a matter not within the scope of Article 72(1) and undermines the Principles of Separation of Powers and Independence of the judiciary.

He therefore believes,"if the courts find our case favourable, they should go back to prison and continue where they left off"
The NDC supporters were set free by the former President, on August 22nd, 2016, after they served more than three weeks in jail, notwithstanding a three-month jail sentence handed by the Supreme Court.

Alistair Nelson, Godwin Ako Gunn and Salifu Masse who were part of a political talk show on Accra-based Montie FM were jailed July 27, 2016, following threats, made live on radio, to kill some judges whose judgements they disagreed with.

They also threatened to rape the Chief Justice Mrs Georgina Theodora Wood on the same show.