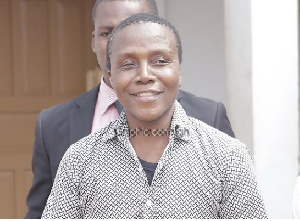 Ghana's Supreme Court has upheld the revocation of an earlier bail granted murder suspect Gregory Afoko who is being tried for allegedly killing the Upper East Regional Chairman of the governing New Patriotic Party (NPP), Adam Mahama in 2015.
A five-member panel of justices presided over by Justice Jones Dotse on Tuesday, 26 November 2019 dismissed the application.

Mr Afoko, who is alleged to have conspired with one Asabke Alangdi to kill Adam Mahama by dousing him with acid, was first admitted to a bail bond of GHS500,000 by an Accra High Court presided over by Justice George Buadi in March this year.

He was supposed to justify one of two sureties.

However, a different High Court presided over by Justice Merley Afua Wood, a Justice of the Court of Appeal who sat as a High Court judge on 15 July 2019, rescinded the earlier bail bond following an argument by Chief State Attorney Marina Appiah Opare that not only was Mr Afoko a flight risk, but that the circumstances under which he had been granted the earlier bail had changed.

Among other things, Mr Afoko, in his certiorari application filed in October 2019 prayed the apex court to stop the judge from hearing his case on grounds of partiality.
Mr Afoko's lawyer, Mr Safo Buabeng, argued in the apex court that rescission of the bail was an error.

However, Deputy Attorney General Godfred Yeboah Dame argued that the filing of the nolle prosequoi by the Attorney General automatically terminated proceedings at the High Court, thus, contended that at the time the High Court rescinded the bail, it was well within its right to do so because the State's interest in the previous case had ended.

Mr Dame, therefore, said the certiorari application was "unmeritorious and same must be dismissed".

The Supreme Court, in its ruling, said: "There's no basis for the application", adding: "The application fails and same is accordingly dismissed".