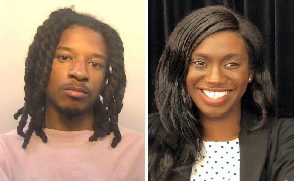 A Virginia man has been arrested for the murder of Ghanaian-American New Jersey councilwoman Eunice Dwumfour, who was gunned down outside her home in February.
Rashid Ali Bynum, 28, who apparently knew Dwumfour from church, was taken into custody Tuesday morning on charges including first-degree murder, Middlesex County Prosecutor Yolanda Ciccone announced at a news conference Tuesday.

On Feb. 1, Dwumfour, a 30-year-old mom and church leader, was shot multiple times while she was in her SUV outside her townhouse.

According to Ciccone, Bynum was a contact in Dwomfour's phone under the acronym "FCF," which authorities believe stands for "Fire Congress Fellowship," a church that the congresswoman was previously affiliated with, "which was also associated with the Champion Royal Assembly, the victim's church at the time of her death."

February 2023 - Ghanaian-American councilwoman killed in New Jersey
The New Jersey Republican Party (NJGOP) in the United States issued a statement confirming the murder of one of its members, Councilwoman, Eunice Dwumfuor, a Ghanaian-American.

According to multiple reports by news portals in the US, the 30-year-old, from Sayreville, New Jersey, was found inside her car with multiple gunshot wounds just before 7:30 p.m. on Thursday, February 1, 2023.

The police have since said they believe she was the intended target of the shooting, but they do not have a clear motive, the report added.

Eunice Dwumfour, who was a business analyst and part-time EMT, is said to have been elected to the council in 2021.