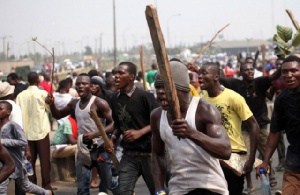 A suspected thief in his twenties is said to have been viciously battered to death.
The incident occurred at Akonfere, a suburb of Nhyinahini in the Atwima Mponuah District in the Ashanti Region.

He was allegedly attacked by an angry mob after a failed attempt to rob a security man and his son.

According to information reaching Rainbowradioonline.com, the suspected thief was part of a gang of thieves who came into the area to carry out their illegal act.

Residents reported that around four thieves were chased, but the deceased was unlucky.
He was allegedly caught and beaten to death.

His body was dumped in the gutter in the area.

The police have been informed and are currently investigating the matter.