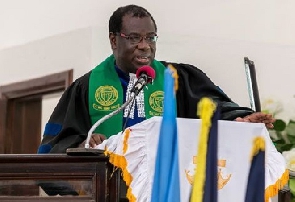 The Christian Council of Ghana (CCG) has asked the government to suspend its Domestic Debt Exchange programme (DDE) and pursue wider engagement with stakeholders.
The CCG in a January 19, 2023 statement signed by Rt. Rev. Prof. J.O.Y Mante said it had arrived at that position after keenly following public debates and talking to some affected parties.

Their call for engagement, the statement noted, was because they had "identified lapses in the debt restructuring programme, a major one being lack of consultation with affected individuals and institutions."

The statement continued: "With the current economic hardships in the country and the agitations among the general public, it is in the nation's interest for the Finance Ministry to suspend the 31st January deadline given to individuals to sign on to the program and rather propose a road map for dialogue to make the process participatory such that the outcome would be acceptable to all."

The government has failed to secure a debt restructuring deal with domestic lenders, postponing a deadline for the DDE thrice, the latest deadline being January 31, 2023.

The DDE is seen as a crucial requirement to secure a programme with the International Monetary Fund (IMF) following a torrid 2022 in which the economy suffered from rising inflation, massive depreciation of the Ghana cedi and the rising cost of living.

The government has repeatedly blamed the crisis partly on the aftershocks of the COVID pandemic and the ongoing Russia-Ukraine war but has promised to turn around the economic fortunes of the country after sealing a Staff-Level Agreement with the IMF late last year, with hopes that funds from the US$3 billion facility will be released early this year.
The government is hamstrung by hurdles as it attempts to secure a debt restructuring programme at home. Processes are underway to restructure external debts too, Finance Minister Ken Ofori-Atta disclosed to Accra-based Joy FM on January 18.

Organized labour successfully fought off plans to include pensions in the DDE; now individual bondholders are also rejecting plans to include them with talks ongoing on a mutually acceptable way forward.

Find the full statement below:




SARA/DO