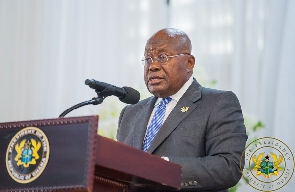 The Ghana Catholic Bishops Conference has added its voice to the controversial Domestic Debt Restructuring Exchange Programme being rolled out by government aimed at securing a deal with the International Monetary Fund.
The religious body is calling on the government to as a matter of urgency suspends all non-essential projects being carried out, reduce government appointees and also review the Free SHS policy to bring relief to Ghanaians.

In a press statement, the Catholic Bishops said that they have been following with interest in recent happenings in the country on the economic front and its impact on Ghanaians, however, they are troubled that the position of the government lacks consensus.

"We, therefore, find it necessary to add our voices to calls on the government to take steps to find solutions that are less burdensome on Ghanaians, and yet sustainable to get the country out of this economic quagmire.

"In light of this, we are troubled that the position adopted by the government lacks consensus, resulting in the recent strong reactions witnessed in the recent past," part of the statement read.

The Catholic Bishops are also urging the government to pursue debt forgiveness and deferment so that the domestic debt restructuring burden could be reduced.
The Ghana Catholic Bishops Conference also encouraged government to take steps to win the trust and confidence of local and international investors by operating a transparent and all-inclusive policy in matters relative to the DDEP.

"To win the international community over in pursuit of this, the government must present a posture that is consistent with the fact that the country is in dire straits or crisis. These include but are certainly not limited to avoiding the reported expected expenditure overruns in the 2023 Budget: drastic government expenditure control by reducing the number of government appointees; suspending non-essential projects; and a review of the free SHS policy," the statement added.



AM/KPE