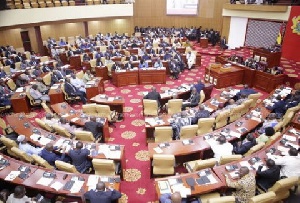 The Minority in Parliament has described the suspension of the Deputy Sports Minister, Pius Enam Hadzide as being merely cosmetic.
President Akufo-Addo yesterday suspended from office with immediate effect Pious Enam Hadzide and the Acting Director General of the National Sports Authority, Robert Sarfo Mensah.

The suspension of the government officials follows preliminary investigations conducted into the circumstances that led to the arrest of some 60 Ghanaians who had allegedly attempted to enter Australia by false pretenses in the ongoing 21st Commonwealth Games.

But speaking to 3FM News, Minority Spokesperson on Communications, A.B.A. Fuseini said the suspension of the Deputy Sports Minister is unconstitutional.

"This government has a knack for doing and sometimes committing lawless things", he stated.

"Show me where in our laws where you have a thing of suspensions when the president finds out there is something untoward or some malfeasance committed by somebody is suspended. If you're convinced that there is an act of wrongdoing, that person is sacked", he added

Mr. Fuseini further called for the setting up of an independent inquiry to probe into the matter.
"We in the minority have made it abundantly clear that the only way forward to establish the truth is to setup an independent inquiry. Once we setup an independent inquiry made up of people of integrity: people who are dedicating to rectifying this huge international shame and embarrassment bought on Ghana," he said.

Meanwhile, Head of Sports at Media General, Michael Oti Agyei commenting on the development, said the Ghana Olympic Committee did not perform its mandate appropriately to ensure the accreditation process was not compromised.

"There was also quite a significant number who decided that the easiest way to get an Australians Visa was to decide that you're a journalist because they saw the loophole in the system and exploited it and if it's the loophole then I'm sorry the Ghana Olympic Committee did not cover enough because the checks about who a journalist was and everything should have been a bit more stringent than it was," he stated

The president of the Ghana Olympic Committee, Ben Nunoo Mensah, the Board Chairman of the National Sports Authority, Kwadwo Baah Agyemang and the chef-de-maison for the 2018 Commonwealth Games, Mohammed Shanoon have also been recalled from the games to assist in investigations currently being undertaken by the Criminal Investigation Department (CID) of the police service.

But Communications Director of the Ghana Olympic Committee, Charles Osei Asigbey said the absence of these men would not affect the performance of the team at the Olympic Games.