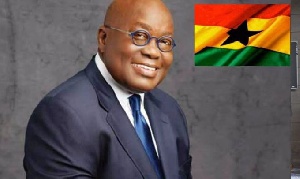 The Christian Council of Ghana (CCG) has congratulated President-elect Nana Addo Dankwa Akufo-Addo for winning the 2016 presidential elections.
It also congratulated Nana Akufo-Addo's party, the New Patriotic Party (NPP), for winning majority of seats in parliament in the parliamentary elections.

In a statement issued to commend Ghanaians for yet another successful elections, CCG expressed especial gratitude to President John Dramani Mahama and the National Democratic Congress (NDC) "for the way and manner in which they accepted the outcome of the elections".

"President Mahama has over the years contributed significantly to national development and made a positive impact on our democratic dispensation as Head of State and a legislator.

"The Christian Council of Ghana is most grateful to Your Excellency," the statement signed by Rev Dr Kwabena Opuni-Frimpong said.
The Council acknowledged the sensitization that engulfed the pre-election period especially with the media and civil society organizations (CSOs) discussing manifestos and promises of the political parties. "Ghanaians are aware of the issues raised.

"We therefore want to admonish the President-elect and his government to sustain the hope and deliver on those promises."

The Council also asked CSOs and the media to sustain the discourse in order to demand accountability from those appointed to public office.

"The CCG wishes to affirm to Ghanaians that it will continue with its public education on good governance, respect for human rights and the call for Christians to bring to bear the Christian values to public life."