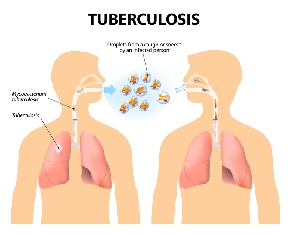 Sat, 9 Sep 2023 Source: GNA
The National TB Programme (NTP) will from October begin the implementation of a new Multi-Drug Resistance (MDR) treatment regimen for TB care in Ghana.
The new World Health Organisation (WHO) Drug Resistant (DR-TB) treatment regimen, Bedaquilin, Protomanid and Moxifloxacin (BPal M) would provide patients with a shorter treatment period of six months as against the previous treatment regimen of nine to 18 months.

It will also reduce the pill burden on patients from the current seven groups of medicines of more than 14 tablets, to three medicines daily.

This follows the approval from the National TB Advisory Board's satisfaction with the WHO implementation arrangement by the Ghana Health Service through its implementation agency, the TB Programme.

Speaking in an interview with the Ghana News Agency (GNA), Dr Yaw Aduse-Poku Programme Manager for NTP said the new drugs quantified, and procured were expected in the country by September 30, 2023.

He explained that the newly recommended BPaLM regimen offered better outcomes, remarkably shortens the duration of treatment, and thus, significantly improves quality of life for people with MDR/RR-TB.
The Programme he noted would begin the implementation plan with national, regional and district consultations with external technical assistance who will help the programme with a country-specific implementation approach.

He said a national guideline, training manual and desk aide were being developed adding "logistics in terms of the new drugs have been quantified and procured, and they are scheduled to be in the country by September 30, 2023."

Dr Aduse-Poku explained that with the new WHO DR-TB treatment regimen [Bedaquilin, Protomanid and Moxifloxacin (BPal M)] as compared to the old regimen, which has commonest side effects such as gastritis, vomiting, reduced appetite, peripheral neuropathy, depression, and suicidal tendencies, the new regimen has a reduced side effect less stressful to patients' family and health workers.

According to the WHO, TB it is one of the top 10 causes of death and in Ghana, and it is estimated that about 30 people lose their lives each day from TB and 125 people fall ill daily.

Globally, it is estimated that each day, over 4000 people lose their lives to it globally and close to 30,000 fall ill with TB disease.
"Currently, Ghana has 169 GeneXpert, 79 digital x-rays in 260 districts and there should be deliberate efforts to provide diagnostic tools for TB diagnosis."

According to the WHO Report, 2022, Ghana recorded 12,000 TB mortality with 45,000 TB incidence with childhood TB recording 6,500 cases.

"The Programme is currently involved in contact tracing, diagnosing and treating Paediatric TB, intensifying case finding in all facilities, embarking on community outreach programmes, actively involved in TB prevention and treatment, as well as embarking on active screening at mining and prisons to increase detection cases in the country," Dr Aduse-Poku noted.

TB is transmitted from a sick TB patient as a droplet infection through coughing, singing, and sneezing. Inhalation of these droplets by an uninfected person may cause infection. TB mostly affects the lungs but can also affect other organs in the body such as the pleural cavity, liver, scrotum, kidney, intestine, and womb. This is known as extrapulmonary tuberculosis. In addition, tuberculosis may also occur in animals such as cattle and this is referred to as bovine TB.

Symptoms of TB include Cough weight loss (poor weight gain in children), fever, tiredness, night sweats, and chest pain. and cough with blood-stained sputum. However, TB is a preventable and curable disease. Diagnosis and treatment are available free of charge in all public and accredited private health facilities.
Source: GNA